Finishing Press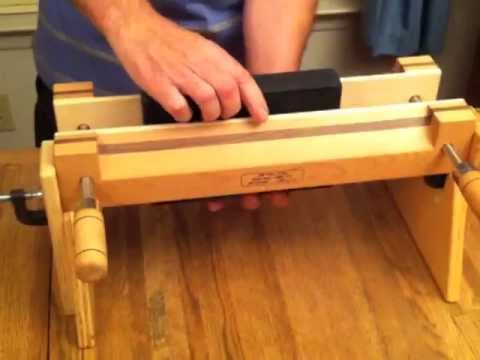 Quality Construction
This is a handmade finishing press (also known as a lying press) with a stand.  It is made from laminated hardwoods with hard rock maple jaw faces and sloped shoulders.  All surfaces are danish oil sealed and hard-waxed to a silky smooth finish.  Smooth turning handles and steel screws bring the press together.
Unique Turning Handles and Steel Screws Instead of Wood
The handles are built to turn in opposite directions (one clockwise and the other counterclockwise) for opening and closing.  This change is different  from traditional designs.  I have found it easier to use and it allows me to build the press for you at a lower cost.
Most traditional finishing or lying presses are made with wood threaded rods.  This increases the production cost considerably for little benefit.  In my experience, the wood threads eventually chip and break off, not to mention the problems with expansion and contraction from humidity, making it difficult to turn the handles.
I am confident you will be satisfied with the quality and functionality of this finishing press.  There aren't many styles of finishing presses available on the market and none that come with a stand.  Look around and you'll find that this is an exceptional value.
Finishing Press Dimensions
Dimensions are approximate as these are made one at a time:
Between the sloped shoulders  14-1/2″ +-
Between the screws  15-1/4″ +-
Opening size   5″+-
Jaw height  3″ +-
Screws are 7/16″ steel threads.
It Comes With a Stand
Included with this press is also a simple stand that allows the book to stand free of the table.  From the table to the top of the press is 9″.  This stand is removable for storage or to use the press alone.
Other Possibilities
Available as a separate purchase, Tying-up Boards turn this finishing  press or any other finishing/book  press into a Tying-up Book Press.
Custom larger and smaller sizes are available upon request. Tell me how I can help you on the contact form.
Purchase this Bookbinding Finishing Press
This finishing press and my other products are available for purchase on eBay.  If you don't see the finishing press on eBay, or would like your own customized version, let me know through the contact page and I'll help you however I can.
Note: The appearance of the one you receive will vary some from the one pictured as I build each one indvidually from materials available at the time.
?php /* Fusion/digitalnature */ ?>